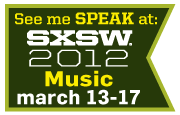 So it's been a lit­tle while since the last update, but our SXSW panel was accepted and I will be speak­ing this week at SXSW, the nation's largest music conference!
The panel is called "Give Your Fans a Rea­son to Buy; Make Direct-to-Fan Work".  It will be held in Room 15 at the Austin Con­ven­tion Cen­ter this Fri­day, March 16th at 2pm. You can add it to your offi­cial SXSW sched­ule by click­ing here.
I was for­tu­nate enough to get a cou­ple of crazy peo­ple to agree to answer my ques­tions for an hour in front of a live audi­ence, and I'm incred­i­bly excited about our panel.  I was able to pick what I believe to be a great mix of per­spec­tives from some truly bright minds.  We have a fan­tas­tic artist man­ager (Emily White), the DIY #1 funded Kick­starter musi­cian (Julia Nunes), a direct-to-fan plat­form CEO/Musician (Benji Rogers of Pledge­Mu­sic), and a full-time Direct-to-Fan strate­gist (Nicole St Jean of Top­spin Media).
I was also inter­viewed by The Noise Room about the panel, which you can read here.
And lastly, I cre­ated a quick web­site for our panel in order to post resources and more infor­ma­tion about our pan­elists.  The site is http://makeDTFwork.com.  This was also my first "respon­sive" web­site, mean­ing the website's lay­out responds to your screen size, mak­ing it read­able and opti­mized on mobile phones, tablets, and com­puter screens alike.
I hope you join us for the panel on Fri­day! If you are unable to attend, I will do my best to grab what­ever record­ing we can. Keep an eye here or on makeDTFwork.com
Want to Work Together?

About Receptive Music

Recep­tive Music is a dig­i­tal mar­ket­ing firm for the music indus­try. We're mak­ing the web work for artists by inte­grat­ing mar­ket­ing cam­paigns with web and social media development.

Receptive on Facebook

Sign Up for the Mailing List

Twitter — @webmusicguy